In The Beginning
As much as we tried to convince ourselves that it was crazy to purchase a remote piece of land, we know it was our destiny. It all happened as it was meant to be.
Many people thought we are crazy, and society expect us to scale down and start looking at retirement options and plans, we know this was not meant for us.
We believe that things in life happens for a reason.
Christo and I have always had a dream of living on a farm when we retire. The farm would include gardens and animals and enough space to be free and creative. Our dream was to life off the grid and to be self-sustainable, leaving a lighter footprint on earth. Unfortunately, we never thought we'd be able to afford it.
Then we discovered this piece of heaven. Not only is the land and the views beautiful, but the piece and quite tangible.
Christo and I have been spending our free time exploring the outskirt of Pretoria. At first, we thought we would buy an older home and renovate it, but after doing some research we realized it would be easier to find a piece of land and build our dream home from scratch. That's when we found this…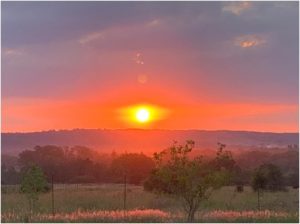 The piece of land was so overgrown, Christo had to make his way through the bushes.
During the weeks before we made an offer on this property, Christo and I spent our morning walks trying to convince each other that we were crazy. During the same walks we also shared our dreams of our future life in the countryside
For a couple of months, we visited the land on the weekends, finding our way through the overgrown bushes.
Christo and I are so excited about our new home and venture ! We hope that you will join us on this new adventure as we dream, design and build Campagne Living!